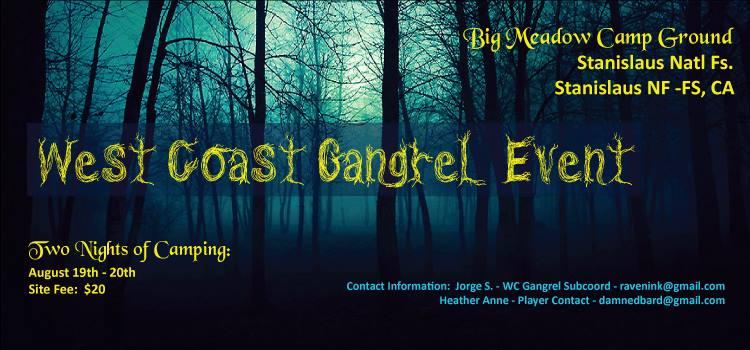 IC: (sent to Gangrel only, via Bird, in person, etc. )
I, She that Burns as the Sun, do here call the Thing, the Story Circle. Calling with me is Morgan Furen.
Brothers and Sisters, fellow travelers, may this invitation reach you wherever you roam!
We long for your stories; for your company. We wish to hear the tall tales and glorious deeds of my cherished clanmates. It is time to rekindle friendships, and welcome those who are new to our blood.
We meet in the moonlight starting August 19th, this Summer, in the land called Big Meadow. Gather all you gangrel who would roam to the West Coast! This is a time for Gangrel only; there are plenty of other parties wherein we can meet new friends of other clans, or hear their stories. This is our time, and our fire. Come be warmed by it.
We welcome our fellow Gangrel, and hope to see you soon.
~Sunny & Morgan Furen
---
OOC INFORMATION:
Location: BIG MEADOW STANISLAUS NATL FS, STANISLAUS NF -FS, CA Site: 001 Group Camp
Start-time: Fri Aug 19 2016, Check in 2pm
End-Time: Sun Aug 21 2016, Check out 1pm
IC Contact: Heather Anne/Sunny - damnedbard@gmail.com
OOC: Jorge Sidhu - ravenink@gmail.com
Hosting Chronicle: Stockton by Night
This is a CAMPING event, meaning we are sleeping in the glorious outdoors in our tents, grilling over the open fire, and telling tales by starlight! If you need help with accomidations, please contact both Heather and Jorge, and we will see what we can do for you!
DIRECTIONS:
We are at site 001 which can be found here: https://www.google.com/maps/dir/Sacramento,+CA/BIG+MEADOW+STANISLAUS+NATL+FS,+CA/@38.3320078,-121.0944434,10z/data=!4m13!4m12!1m5!1m1!1s0x809ac672b28397f9:0x921f6aaa74197fdb!2m2!1d-121.4943996!2d38.5815719!1m5!1m1!1s0x809755accc51efaf:0xfa8d7f995cf2a1c1!2m2!1d-120.105!2d38.4163889
COST: This is a recommended site fee of $20, but nobody will be turned away if they don't have the funds. Donations are always welcome to add to the food pool. We generally "carpool" food, and have several players who cook for the group. If you want to do your turn as a cook, please contact Heather tpo Sunny at damnedbard@gmail.com.
---
CHARACHTER SHEETS:
Sheets must be sent to: ravenink@gmail.com or stocktonst@googlegroups.com NO LATER THAN AUGUST 8TH.
Even if you send your sheet ahead of time, please bring your Stamped and Signed Character sheet, to be checked in with Jorge Sidhu before entering play.
This event was declared ICly as Gangrel only. Any non gangrel attends at their own risk. Make sure you can provide a method by which your character learned of the gather. If your character would do so, RSVP IC with Sunny - damnedbard@gmail.com.
Sign in for game starts around 7:00 pm, game on at 8:00 pm, and we go till Midnight, later if the Staff decides they want to remain awake, :D
In regards to Sabbat PCS: What sabbat ? I see a lot of independant and anarch and cam Gangrel. Invite only went to them.. la la la nothing to see here. (Bring the PC you feel you can bring, however IC consequences will be enforced upon those foolish enough to be caught.. Naturally.)